Volunteer/Take-a-Stand
The 23rd Annual Take-A-Stand Against Child Abuse is Friday, July 13th and Saturday, July 14th.

You can help by running your very own lemonade stand! Phelps County Bank will supply you with all the lemonade you need plus ice, posters, 2 free t-shirts and more! Complete the form below and join us for Take-A-Stand against Child Abuse.
LEMONADE STAND SIGN-UP FORM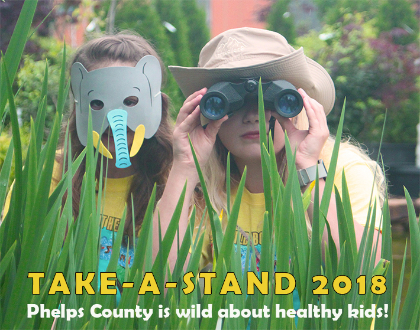 Take-A-Stand Sponsors for 2018
The generosity of these businesses makes Take-A-Stand happen! Thank you from all of us at Phelps County Bank.


Gold Sponsors: 
Animal Health Center of Rolla, Archer Elgin Engineering, Brewer Science, Dr. Mitch Esquibel, DDS, Fidelity Communications, Investment Realty, Key Sport, McDonalds, Mercy Clinics, Mo-Sci Corporation, Pepsi, Results Radio, Phelps County Bank, Phelps County Regional Medical Center, Sinks Pharmacy, and Williams, Robinson, Rigler & Buschjost, PC.

Silver Sponsors:
A-1 Moving and Storage, Inc., Alex's Pizza, Crescent Mortgage, Rick Crawford Services, Great Circle, Kokomo Joe's Family Fun Center, Legends Bank, Dr. Greg and Diane Maynard, Miller Glass, Pathways - Compass Health, Phelps Regional Home Care, Re/Max Heart of America, Rolla Family Dentistry, Stahlman Powersports, Strange Law Firm, LLC and the St. James Lions Club.